Blue Dart offers Express Pallet (Domestic): Convenient, Flexible, Specialized Palletized Packaging Solution priced to include door-to-door delivery service within India both by Air and Ground mode.
ᄋ Free specially designed packaging solution
ᄋ Ideal for heavier shipments weighing between 30 to 100kgs
ᄋ Same box foldable in three dimensions:50, 75 &100 kgs'
ᄋ Available in Air and Surface mode
ᄋ Corrugated, weather-proof strong packaging
ᄋ Tough cardboard pallet base
ᄋ Strapped for added security and protection
ᄋ Special palletized packaging for easy handling
ᄋ Door-to-door delivery
ᄋ Online tracking
ᄋ Regulatory Clearance
ᄋ Customer Service support
Mumbai : May, 25, 2010:
Blue Dart, South Asia's premier number one express air and integrated transportation, distribution and logistics Company, has launched an innovative packaging solution for its domestic customers -Express Pallet (Domestic).
Express Pallet is a unique, weather-resistant, safe, secure and affordable door-to-door packaging solution, ideal for heavier shipments. It is 'built' to accommodate shipments ranging from 30kgs to 100kgs. The design and structure allows the same box to be adjusted into three different sizes with capacities of 50 kgs, 75 kgs and 100 kgs.
Express Pallet is fitted with specially designed in-built wood-free pallet base for smooth and safe transportation via a forklift. The sturdy packaging ensures additional safety of the shipment. The heavy-duty corrugated weather-proof cardboard box is further strapped to provide additional protection.
The Express Pallet is a suitable packaging option for transporting material in most businesses - Banking & Finance, Automotive, Pharmaceuticals, Ready-made garments, Hi-tech etc. It is also a great packaging solution for students who are shifting their base from home to hostel or back and need to carry their baggage along.
The Express Pallet is also very attractively priced. For example, a 50 kg shipment from Mumbai to Delhi would cost Rs. 4340 via Air and Rs. 1700 via Road, a 75 kg shipment would cost Rs 6060 via Air and Rs.2100 via Road, while a 100 kg shipment would cost Rs 7780 via Air and Rs.2500 via Road (all exclusive of applicable fuel surcharge and service tax).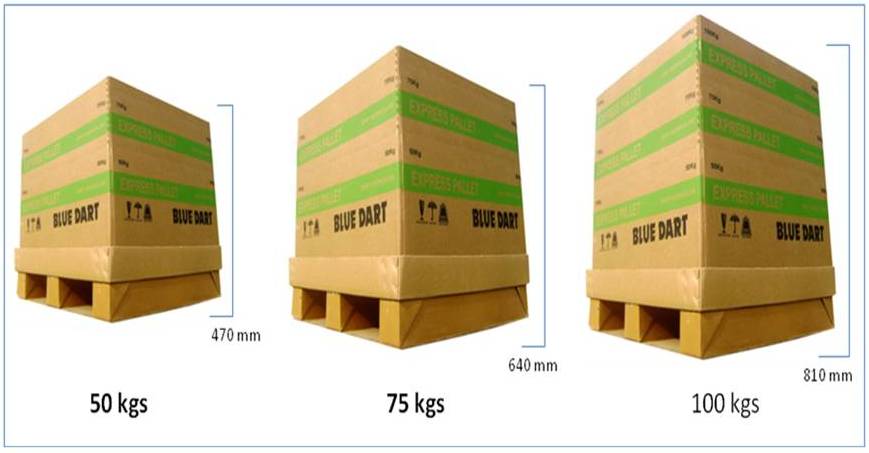 The dimensions of Express Pallet are as follows:

Calling this initiative another effort to serve customers as an integrated logistics service provider, Ketan Kulkarni, Head - Marketing, Corporate Communications and Sustainability, Blue Dart Express Limited said, "Subsequent to receiving a great response last year for Express Pallet from our International customers, we have launched the product for the domestic market as well. Express Pallet (Domestic) has been developed keeping in mind the various needs of shippers, requiring to send heavy packages across the country. Its unique packaging relieves shippers of their packaging pains and takes care of safety of the shipments. The real-time tracking facility ensures shipment visibility from pickup till delivery at the destination. It thus enables domestic customers with a safe, secure and affordable packaging option to send heavyweight shipments - door-to-door."
He further added, "Blue Dart is in its 27th year of trade facilitation in the country and efforts are on to deliver maximum mileage to our customers in every way possible. Blue Dart's endeavor is to focus on specific customer needs and deliver value-added services around them. This has led Blue Dart to come up with unique solutions like the Smart Box, Express Pallet, both for domestic and international customers etc. Blue Dart can now boast of offering packaging solutions for any shipment weighing up to 100 kgs. The support and trust from our customers on various such new initiatives only validates our intelligence, research and hard work that goes into providing customized and appropriate services to our myriad client-base".
About Blue Dart:
Blue Dart, South Asia's premier number one express air and integrated transportation, distribution and Logistics Company, offers secure and reliable delivery of consignments to over 25,416 locations in India.
As part of the DHL Group (DHL Express, DHL Global Forwarding & DHL Supply Chain), Blue Dart accesses the largest and most comprehensive express and logistics network worldwide, covering over 220 countries and offers an entire spectrum of distribution services including air express, freight forwarding supply chain solutions and customs clearance.
Blue Dart received the 'Superbrand' status 5 times in a row and the Reader's Digest Most Trusted Brand Gold Award, 4 years in a row. It has been listed as one of the Forbes 'Best under a Billion' companies in Asia. Blue Dart received the Amity HR Excellence Awards 3 times consecutively and was listed 2 times in the Dun & Bradstreet top 500 companies of India. Blue Dart has been conferred the Asia Brand Congress - Brand Leadership Award in 2008, the World Brand Congress - Brand Leadership Award and the Best Service Provider of the Year in 2009. In 2010, amongst a host of awards, Blue Dart was conferred with the Organization with Innovative HR Practices 2009-10 and Best Employer Award on Employee Retention at the Global HR Excellence Awards, WHRDC Meet 2010. Recently, Blue Dart was honoured with the 22nd CFBP Jamnalal Bajaj Fair Business Practices Award - 2010 in the category of Service Enterprises (Medium).
The Blue Dart team drives market leadership through its motivated people force, dedicated air and ground capacity, cutting-edge technology, wide range of innovative, vertical specific products and value-added services to deliver unmatched standards of service quality to its customers. Blue Dart's market leadership is further validated by numerous awards and recognitions from customers for exhibiting reliability, superior brand experience and sustainability. Blue Dart accepts its social responsibility by supporting climate protection, disaster management and education.
For further information contact :
marketing@bluedart.com
Dated :May , 2010