International services
International services are subject to the DHL - Terms and Conditions of Carriage, and the liability terms incorporated therein. Please read these carefully before you avail of our services.
Click on Country Information for country-specific documentation requirements.
Blue Dart offers DHL Express Worldwide (DOC), DHL Express Worldwide (NON DOC), Express Easy Box 8 and Express Easy Box 6, a one-stop shipping process for reliable, time-definite, door-to-door delivery of international documents and packages. The service offers access to 220 countries and territories worldwide and the extensive, quality network of Blue Dart and DHL.
The special benefits of the International Services are:
A Convenient Solution for your Urgent, International Documents & Shipments

Documents and packages will be picked-up from your location, cleared through customs and delivered to your consignee. Contact Blue Dart to organize a pick-up, and click on Location Finder for locations serviced by International Services, or Contact Blue Dart for details.

Customs Clearance Expertise

Specialists conversant with customs formalities in India as well as in 228 countries world-wide, and pre-clearance for shipments in transit available for most destinations, ensure efficient delivery. Click on Customs for details on customs paperwork requirements.

Real-time Tracking

Through the net at www.bluedart.com, for information on your shipments at all stages of transportation. You may also Contact Blue Dart for details.

A Cost-effective Option

The door-to-door service eliminates the need to retain a clearing agent and arrange transportation at destination for delivery to the Consignee.

Packaging

DHL has innovated a wide range of unique packaging to protect and secure your documents and shipments, and enhance the brand value of your products.
DHL offers:
DHL Packaging: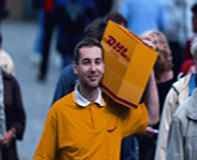 1. Flyers - Can fit in documents, pamphlets, magazines, annual reports and brochures.
Small Express Flyer - 305 x 400 mm. Recommended max. weight 5 kgs.
Large Express Flyer - 405 x 435 mm. Recommended max. weight 8 kgs.
2. Express Box
Express Box 3 - 315 x 220 x 50 mm. Recommended max. weight 5 kgs.
Express Box 5 - 355 x 360 x 110 mm. Recommended max. weight 5.5 kgs.
Express Box 7 - 365 x 235 x 305 mm. Recommended max. weight 20 kgs.
Express Box 8 - 415 x 315 x 285 mm. Recommended max. weight 25 kgs.
Express Box 9 - 455 x 300 x 385 mm. Recommended max. weight 35 kgs.

- Can hold up to 12 bottles of wine, garments, a large machine and electronic parts.
For any further assistance with your International documents and shipments, Contact Blue Dart.
For information on Fuel Surcharge Click Here
For information on International Product Surcharge Click Here